Easy Travel Tips for Flying with an Infant
If it's your first time flying with an infant, you are probably worried about what to expect in the airplane or even what you need to do before boarding; like which seat should you book or whether flying with a stroller is acceptable. Well, we have managed to do most of the research for you and packaged it into the following helpful tips for flying with an infant.
Preparing For the flight
Success when flying with a baby, like in every other thing, is always determined by how well you prepare, therefore, it is crucial to plan every detail of the trip before it commences. This preparation begins when you are booking tickets. Always find out what your airline's policy is to infant passengers. Ensure you know whether they extend discounts to seats reserved for infants as you are recommended to book a separate seat for them. Also find out what their baggage policy for infants is regarding special items that aid baby movement especially when you are planning on flying with a stroller. Consequently, you can research on the special offers they give to families to help them cope inside the flight.
Consider Carrying a Car seat approved for Airlines
However, just as it is with cars, it is not safe for infants to occupy airplane seats without any restraining device as the airplane seat belt will do a terrible job at this. So it is required that any infant who has a seat booked for them should have a car seat as that is also approved for use on the airplane. These car seats go a long way in keeping your infant safe especially when your plane experiences turbulence midflight.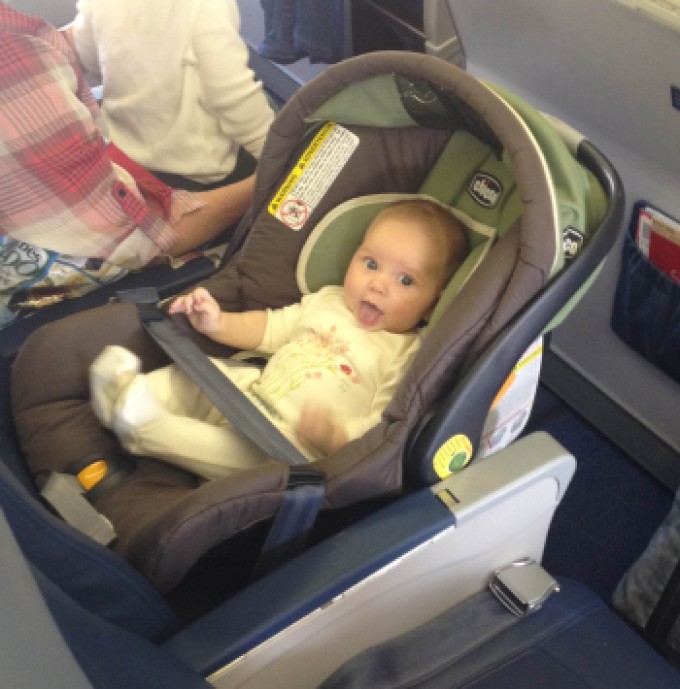 Essentials you should pack
Apart from the ticket bookings, you will need to make, what you pack is also a critical determinant of the success of your intention of flying with an infant. Some items you should prioritize in your packing list are diapers, pacifiers, a fresh change of clothes for both the baby and you, a changing pad, several wipes to take off the mess that will arise during changing, baby food and baby formula, Sippy Cups, any medication that your child will need along the way and essential travel documents. Since these are items that will frequently need during the flight ensure that you keep them in your hand luggage.
Travel Documents
Like any other passenger, your baby will need identification papers for them to travel. Key of these, if you are traveling locally, is a valid Birth Certificate which should have your name on it to confirm that you are the Bonafide parent of the child. To establish this, the airport officials will ask for your identification documents for name matching purposes, so keep these documents neatly together in the same luggage. In most cases, if you are traveling without the other parent of the child, you will be required to present a consent letter indicating their approval for you to travel with the child. A passport is also an essential requirement especially if you are traveling overseas.
What to Expect During Screening
Another thing we can't fail to mention in out tips for flying with an infant is the security screening. The safety of all the passengers is usually upheld at all airports hence expect to go through a security screening before you board your flight. For instance, any formula, juice or milk you pack for your baby will be screened using x-ray technology and in some cases subjected to even further checks. Research does show that such screening does not make the food harmful for your child's consumption thus you should be least worried about it. Since you cannot limit the amount of food the child will need, any formula, milk or medication that the child will need is exempt from some restrictions other items that fall under the same category are usually subjected to. Other items that will be checked are the carry-on bag, blankets, toys or any other item meant for the infant.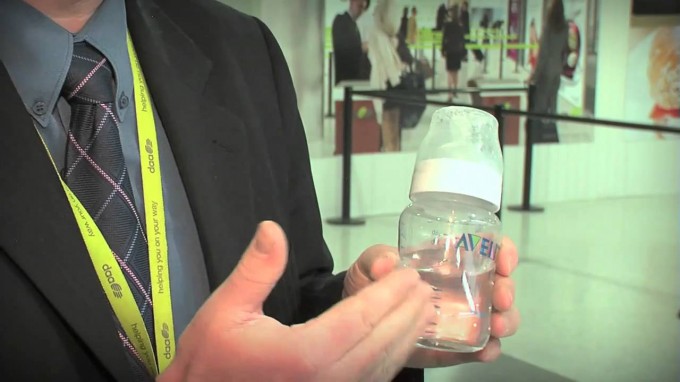 Flying with a Stroller
Bringing along your stroller can make your work easy when flying with a baby. To begin with, it can save you a lot of energy while trying to maneuver most airports which are designed with long stretches. You can fly with a stroller free of charge in most airlines. However, the kind of strollers that are allowed for carriage should be small in size and collapsible. Consider carrying the collapsible umbrella stroller which can fit in the seat in front of you or the cabin area.
A growing trend shoes most airlines are beginning to offer passengers flying with a baby the option of using a courtesy stroller provided by the carrier to relieve them the hassle of flying with a stroller.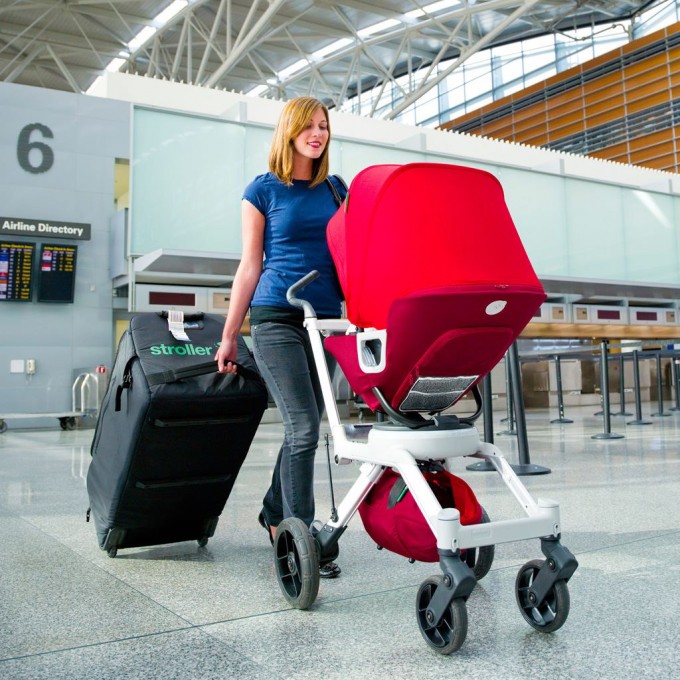 Changing the Baby While Airborne
Most probably your baby will soil their clothes mid-air, and you will need to change them. Thus you need to be prepared on where and how to do it. Firstly it is recommended that you change your baby's diaper before boarding so that your infant is fresh when boarding the plane. This can save you the hassle of changing diapers on short flights as it will take the baby awhile before soiling their diapers. However, should it happen, most airlines have special bathrooms fitted with changing tables that you can make good use of. Thus always enquire from the flight attendants if they have these special bathrooms so that you can consider alternative changing environments if they don't have one. For instance, the toilet seat can be a good alternate changing spot for the baby.
On the other hand, you should consider doing it on your lap, but in this case, speed is very critical so that you avoid annoying other passengers. Sometimes it is polite to ask if it will be uncomfortable for them. This alternative can work best if you are traveling with family members who occupy the seats next to you or when you are traveling in an airplane with empty seats as they won't mind you changing the baby next to them. After you are done, you have no option but to dispose of the diapers yourself, so bring with you disposable bags which you can place the soiled diapers in before depositing them in a trash bin.
Ideally, it is recommended that you pack one diaper for each hour of flight. In addition to this, if your baby is susceptible to diaper rashes pack for them a diaper cream you can apply on them to prevent or minimize these rashes.
Preventing Baby Ear Pain
Immediately after takeoff or during landing your baby will begin to cry uncontrollably. If it's your first time flying with a baby, this can be very puzzling. This scenario is usually attributed to the changes in air pressure taking place inside the plane. Since the body also adjusts to this air pressure immediately, hollow spaces like ears often experience some level of contraction which can be very painful to the babies leading them to respond through crying. To avoid this, always give your child something to suck on immediately before takeoff or during landing as it has been shown this helps them in adjusting to the changes in pressure.
Going About Breast Feeding
Since you anticipate to breastfeed your baby on the airplane, you should be aware that there are no areas that are designated for mothers for the purpose of nursing. Therefore, an ideal space to do your nursing is right on your seat. The best seats for this goal are usually the aisle seats as they will offer you more space to comfortably hold your baby in position. In case, you feel the aisle seats might be too open, and you need more privacy then always go for the window seats. Your comfort during feeding is also essential especially with your choice of clothes in mind. Hence some important garments you need to have with you are a nice nursing tank top, burp cloths and a scarf for cover while breastfeeding.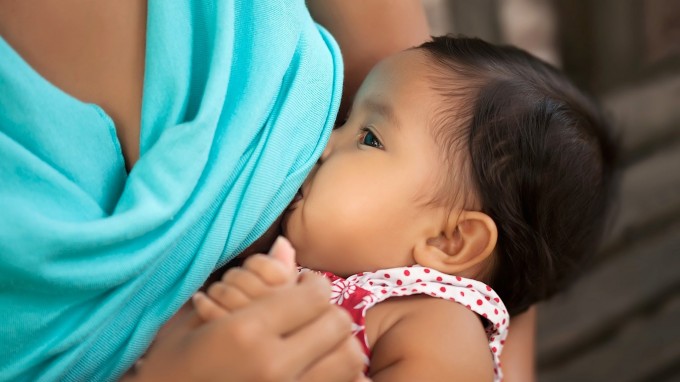 Getting the Baby to Sleep
Every parent should endeavor to keep their baby asleep if they are not feeding. Although this can be very hard since some parts of the aircraft can be very noisy, the seat you book should be the first thing to consider. The seats at the front are usually the best as they are far away from the engines at the back and so can offer your baby a favorable environment for sleeping. Always give them priority when booking. They also come with the advantage of being easy to attach bassinets which are highly recommended as they offer more comfort to sleeping babies. If you are flexible regarding the times which you can travel, then go for flights that coincide with the baby's sleep time as this will guarantee that they fall asleep much quickly. For both comfort and to increase their ease of sleep keep them warm, dry and clean.
Of course, these tips for flying with your infant are not exhaustive, but they will come in handy in helping you plan ahead to prevent many challenges that you are set to face during traveling.
Some video advices for traveling with an infant:
If you see any inaccuracies, misleading information or want to properly complete the specific article with interesting information, just write us to info@airlinesbaggagesizes.com.